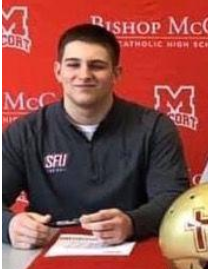 Apr 21, 2020
Early Recognition for Matthew 25 Youth Award Winner
Nick McGowan is described as an enthusiastic, hardworking, intentional disciple of Christ. Nick is a senior at Bishop McCort Catholic High School in Johnstown. According to Theology teacher and Campus Ministry Director Michelle Rivetti, who nominated Nick for the award, he demonstrates his abilities through volunteering, especially for all small and large jobs that others do not want to do.
Nick is well-known in his parish community, often volunteering for festivals, as an altar server and Extraordinary Minister of the Eucharist. He is active in many social and sports activities and has received numerous awards. These include the M-Power Club, Men's Health MOvember representative, Martin Baker Challenge Program community service award, Mass Tech Coordinator, Mini THON chairperson, Breakfast with Santa President, Key Club, and Mock Trial Member.
Congratulations to Nick on behalf of the board of directors of Catholic Charities. It sounds like you have a bright future ahead. We wish you the best!