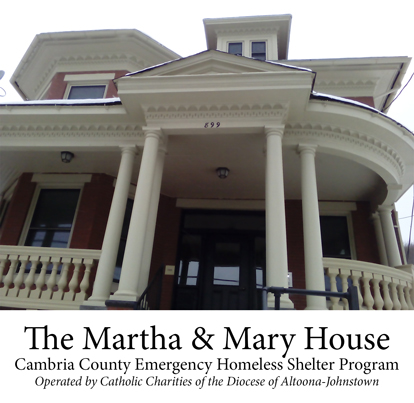 Oct 26, 2020
Martha & Mary House Overcoming Covid Restrictions to Keep Serving Homeless Population
Covid 19 has caused adversity, stress and loneliness for many. For the area's homeless population and those who are working to help them, there are these issues, plus many things those of us may not even consider.
If the stay-at-home order was difficult for you, imagine if you had no home. What if you had been staying with different friends and family, or sleeping in your car? What if you had no permanent residence to provide safety and a place to keep even a few days' worth of food, let alone two weeks?
The Martha & Mary House was there for Cambria County individuals and families experiencing homelessness during one of the most challenging times in recent history. Operating a homeless shelter during a pandemic has unique challenges.
"Cleaning and sanitizing are a top priority ALL the time in a shelter environment, and became even more critical once the pandemic began," says Jean Johnstone, Catholic Charities Executive Director. "Like everyone else experienced, accessing supplies like bleach wipes, cleaners, hand soap, and hand sanitizer was a big challenge. We also had to establish even more stringent cleaning protocols."
Another change was implemented to keep residents at the shelter safe: lowering numbers to half capacity. But this change didn't mean helping fewer people.
"The shelter continues to operate at half capacity in order to keep our staff and residents healthy, but we aren't turning away people," Jean explained. "Once the capacity limit it reached, we work with other organizations who secure hotel rooms for overflow. Until we can get back to full capacity, it's essential to provide safe and secure housing for those without it, now more than ever."
If you'd like to support the Martha & Mary House, you can designate it in the "special notes" field of your online gift or include it in the memo line of your check.