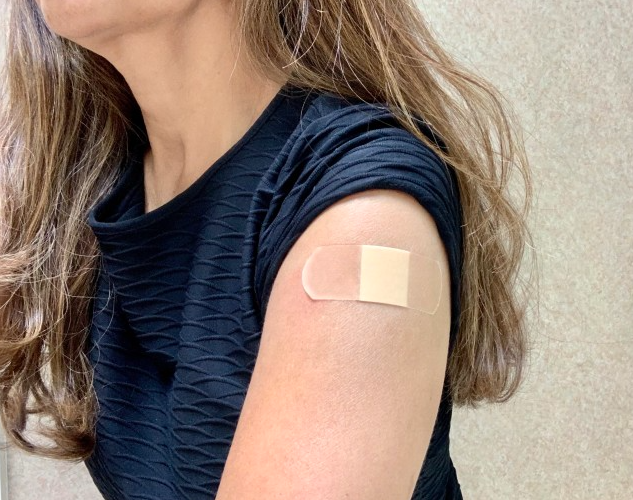 May 25, 2021
"Peace of Mind is Precious Cargo": COVID Vaccines for Housing-Compromised Individuals
During what he calls 'the toughest 18 months' of his tenure as program director of the Martha & Mary House, Jesse Trentini says that there is a bright spot in the pandemic landscape. Catholic Charities' emergency homeless shelter is partnering with the community to offer COVID vaccines to homeless individuals as well as the rest of the Johnstown community.
"We are glad to be part of bringing the vaccine to locations where it could be accessed. If even a portion of our population can't get to a resource, it's our responsibility to do something," Trentini says.
The shelter, which has offered refuge and caring case managers to individuals within Cambria County since 2017, has seen a lot of changes over the past year and a half, but hard work and mitigation efforts have paid off. Their team has worked hard to keep the residents and staff safe.
"Last March, we shut down for a month and spent that time making a plan on how to move forward. We reduced occupancy to less than 50%—now every room has only one family unit in it, whether that number is one or four. We brought in PPE, plexiglass and a fogger. We had a close call: a worker was exposed by their parents. So, we decided to institute more precautions and began mandating COVID testing any time someone was coming over from a third party setting like an inpatient facility, hospital or jail. If they were positive, we would provide an offsite location where they could quarantine until they could safely come to the shelter."
Although the mandate was initially met with some resistance, it was worthwhile. "We've been able to maintain full testing without hurting our accessibility, and that's the important thing. We need to remain accessible to the most vulnerable members of our community, providing help that is easy to attain," Trentini says.
The opportunity to serve as a vaccination site was a perfect match for the mission of accessibility. The shelter was approached about the project by the 1889 Foundation, a nonprofit that supports programs and initiatives focusing on health and wellness in Cambria County.
According to Trentini, "They said that there was a shipment of vaccines on its way, with a designation for use with housing compromised individuals. They asked me—how do we best manage this? We put together a task force and within just a few weeks, had a plan to offer two clinics with a lot of community involvement. Local churches brought food and chairs and Pitt nursing students came to help administer shots."
While the priority was the homeless population, the vaccines were offered to "anyone who wanted to roll up their sleeve." The first clinic, held April 15, gave first doses to around 40 individuals, and a second clinic on May 13 offered both first and second doses.
Trentini says it was observing people in the moments after the vaccine that made all the hard work worth it. "You see it on their faces—the relief, the peace of mind. And when you are talking about a vulnerable population, peace of mind is very precious cargo."