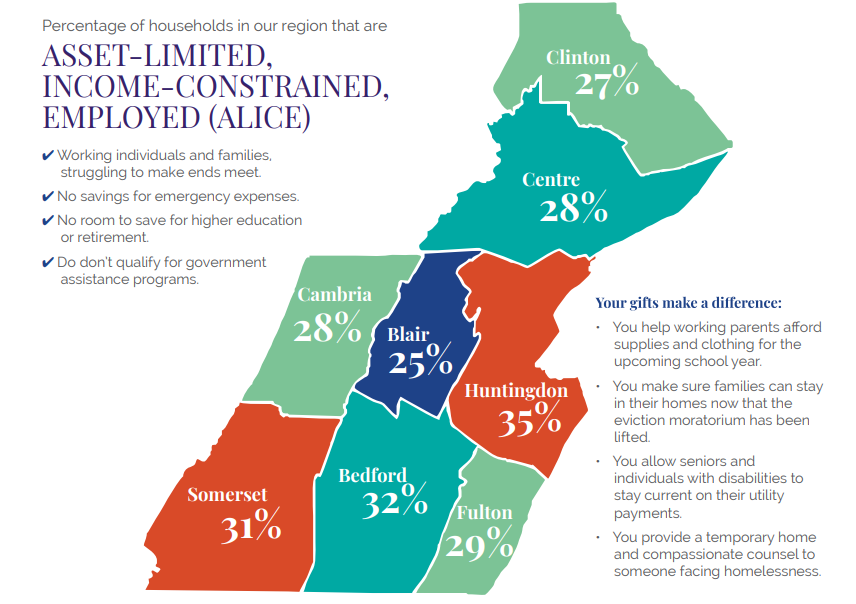 Sep 23, 2021
Recent Study on Poverty in U.S. Cites Local Cities
Using data from the U.S. Census Bureau, 24/7 Wall St. identified the city in every state hit hardest by extreme poverty. The study ranked metro areas in each state by the share of the population living below the poverty line in neighborhoods with poverty rates of 40% or higher. While Reading, PA, was found to have the highest concentrated poverty rate, the study notes that its overall poverty rate of 12% is lower than in Johnstown and Altoona, both of which have overall poverty rates of more than 14%.
Poverty impacts more than just an individual or family's immediate finances. A lack of economic opportunity in the poorest neighborhoods in cities across the United States makes it more difficult for many residents to pull themselves out of poverty.
For example, only about 62% of households in high-poverty neighborhoods have internet access, compared to over 80% of all U.S. households. Additionally, the five-year average unemployment rate in high-poverty neighborhoods in U.S. metro areas is 12.9%, more than double the 5.2% jobless rate in metro area neighborhoods with poverty rates below 40%.
As part of Catholic Charities efforts to address poverty and financial instability, compassionate case workers spend time clients to help create monthly budgets and work toward more stability. While this is only part of the solution, it makes a difference for clients by giving them hope for the future.