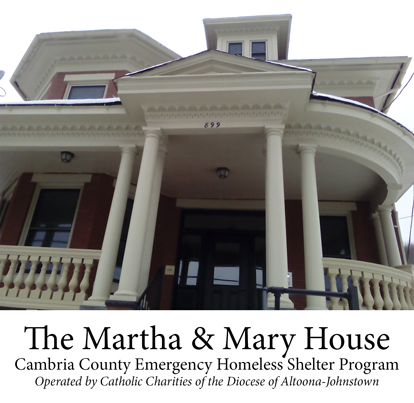 On March 2, 2015, Catholic Charities of the Diocese of Altoona-Johnstown officially opened its homeless shelter at 899 Bedford St. in Johnstown. The Martha & Mary House will provide support, safety, and hope to individuals and families in the form of shelter, planning, and caring case managers. The shelter can accommodate up to 15 people, and residents can stay for up to 30 days--enough time to secure financial stability and a more permanent residence. You must be a resident of Cambria County for 90-days to eligible.
In addition to offering a place to sleep and day-to-day necessities, the Martha & Mary House helps individuals to create successful plans for moving forward by offering:
Case managers to facilitate permanent housing placement
Internet access to help with job searches and assistance with resume writing
Transportation to and collaboration with local social service agencies
A physical address, required when applying for SNAP benefits
This ambitious and much-needed project would not be possible without the many individuals, organizations, businesses, and churches of various denominations that provided generous financial support needed to open the doors. Ongoing community support will be necessary to maintain the shelter and the needs of those staying there.
HOW YOU CAN HELP
Some opportunities are still available to "adopt" rooms in the shelter; businesses, organizations, churches, and individuals can learn more by contacting Cindy O'Connor, Executive Director, at 814-944-9388.
Several churches have taken special collections or established special projects in support of the shelter; to organize a collection or drive for your church, contact Jean at the number above.
Make a financial contribution to assist with our annual operating costs.
HOMELESSNESS BY THE NUMBERS
1,323 = Nights of shelter provided to Cambria County families in 2014+
204 = Number of Cambria County families provided with temporary housing in 2014+
23% = Percentage of all homeless people who are children under the age of 18*
*On a single night in January 2013; stat from projecthome.org
+ Catholic Charities has been providing housing at a temporary location while preparing to open the Martha & Mary House.
"If your brother becomes poor and cannot maintain himself with you, you shall support him as though he were a stranger and a sojourner, and he shall live with you. Take no interest from him or profit, but fear your God, that your brother may live beside you." - Leviticus 25:35-36